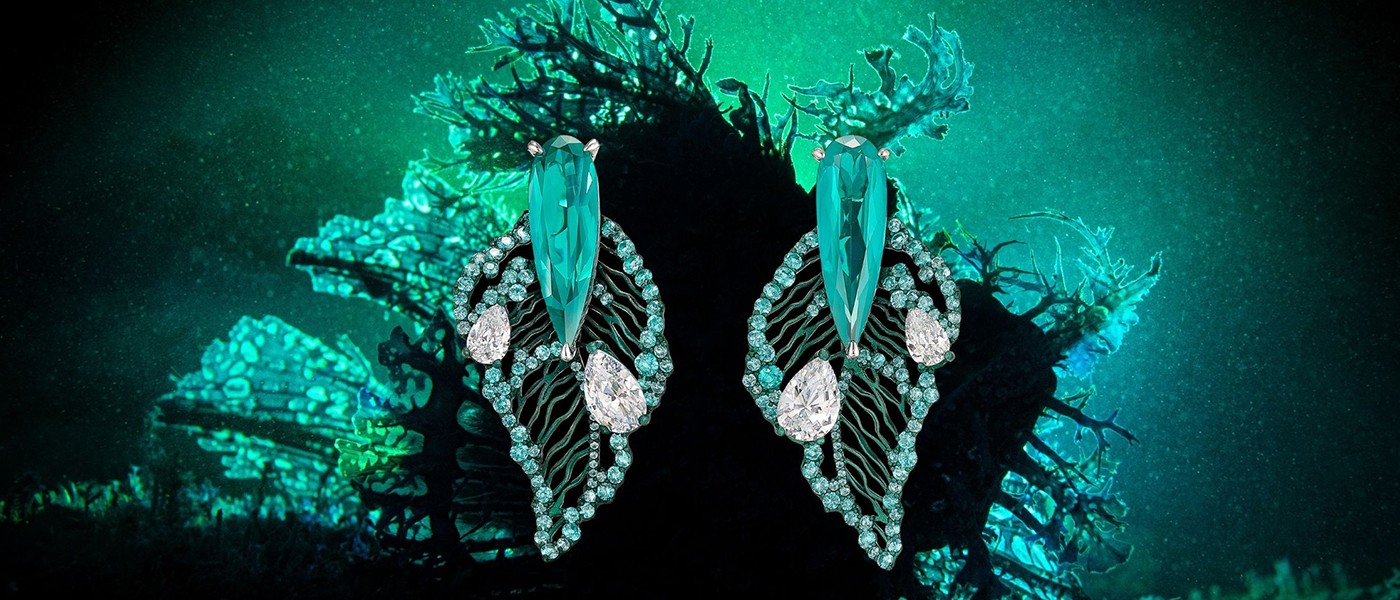 Anabela Chan
The Mermaid's Tale Collection
Anabela Chan
The Mermaid's Tale Collection
Anabela Chan, a London based award-winning designer, is the first fine jewellery brand in the world to champion laboratory-grown gemstones with high jewellery design and artisanal craftsmanship, with a focus on ethical and sustainable innovations. She finds her inspirations from her extensive travels to the exotic and the orient; collecting gems and treasures along the way from local markets, nature and the intriguing people she meets. Through an alchemy of precious, natural and man-made materials, Anabela combines elegant sculptural forms with dream-like romanticism and thought provoking narratives.

credits: Anabela Chan
Her latest jewellery collection Mermaid's Tale, is inspired by the wonders of the sea. Anabela found herself on an imaginary travel in 2020's quarantine, through the lens and social media of her favourite marine biologists and underwater photographers.
"Inspired by my two trailblazing girlfriends, Valentine Thomas and Lily Wang , I submerged myself in their world of ocean wonders through their lens and my imagination, both gave me immense joy and a sense of escapism during the extraordinary year, much of which was spent confined at home during London's lockdown"

credits: Anabela Chan
SThis is her second collection created with recycled aluminium soda cans, many of which came from ocean and beach clean-ups, including some Anabela collected with her children during frequent trips to the British seaside in 2020. Each piece is intricately hand-set with laboratory-grown and created gemstone.
A collection influenced by her Ocean's passion, Made with Ocean waste metals, Pledged to restore Ocean ecosystems.

credits: Anabela Chan
"The Ocean has the power to reverse climate change.
The Ocean produces up to 80% of the air we breathe. Coastal ecosystems such as kelp forests, mangroves and seagrass can sequester up to 20 times more carbon per acre than land forests. One mangrove tree stores approximately 1 ton of CO2, creates critical habitat for marine life and provides sustainable employment for local communities.
For every creation sold, we pledge to plant 100 Mangrove SeaTrees in the Ocean via The SeaTrees Project."
Whilst there is nothing quite like the jewels of nature itself, Anabela hopes to have captured a glimpse of the magic and wonder of our magnificent oceans.

credits: Anabela Chan