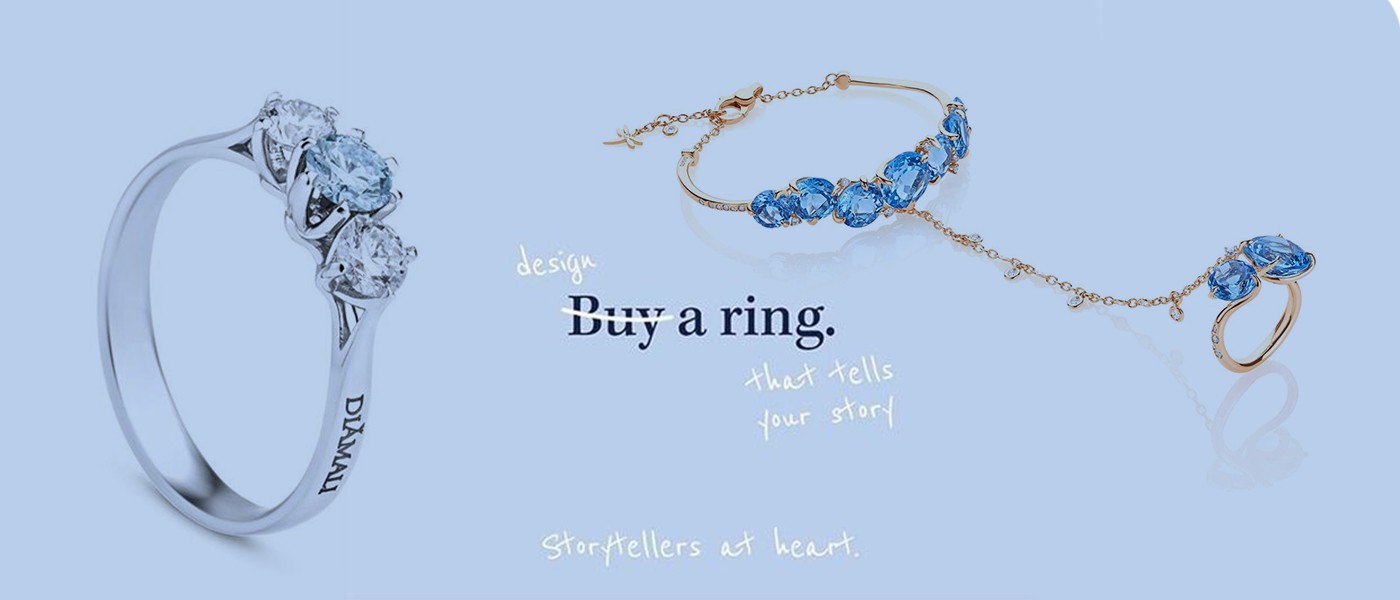 COLOUR THEORIES - The true colours of love
#millennialcouples #engagementringselfies #loveislove #newagebrides #showmeyourring #emeraldengagementrings #colourengagementrings #sayyestocolor
COLOUR THEORIES - The true colours of love
#millennialcouples #engagementringselfies #loveislove #newagebrides #showmeyourring #emeraldengagementrings #colourengagementrings #sayyestocolor
Colourful influences in wedding jewellery are finally taking root. For years, designers have tried to infuse colour into bridal jewellery, but the market wasn't nearly as receptive as it is today. Living in a digital world, consumers are exposed to far more styles than what they would be in a jewellery store, which influences every detail in a design.
New brides realize that tradition can be whatever they want it to be, and that colour is a fun way to define your own standout style. Diamonds still play an important role, but they're much more included, salt-and-pepper or galaxy diamonds – white diamonds filled with dark inclusions that give the stone the appearance of the night sky or stormy seas. While white diamonds and pearls will always remain 'Classic', they do not apply to every bride. More so than any specific trend, brides today are about breaking the rules. Today's brides want to wear jewellery as a way of expressing their personal style.

Image source: 1. Cirari; 2. Picchiotti; 3. Cirari 2
Even when selecting diamonds, colour has definitely influenced the choices of today's consumer. Demand for fancy-colour diamonds has exploded over the last couple of years, owing to celebrity engagement rings, scene-stealing red-carpet jewellery and record-breaking auctions. Considering that fancy-colour diamonds are harder than other coloured gems, this makes them ideal for everyday wear. Custom-made creations with yellow, champagne and black diamonds, have become popular for clients wanting something different to what their friends have. Pink diamonds are also highly sought after.
For a myriad of financial, ethical, and stylistic reasons, Millennials are exploring ring options that go beyond the traditional diamond. Instead of shelling out for diamonds, Millennial couples are opting to put that cash toward a house, children, or even an epic honeymoon (YOLO). Couples are spending just an average of £573 (about $600) on engagement, which makes less expensive, coloured stones an excellent option.
Coloured stones are becoming more popular in engagement rings, especially when paired with white diamonds. Whether as the main stone, side stones or in a halo, you get the best of both the individuality and vibrancy of a coloured centre stone but also the irresistible sparkle of diamonds. One of the reasons we see a shift to coloured stones instead of diamonds is a trend toward brides wanting to incorporate a family stone/birth stone/partner's birth stone in their engagement ring, and it's not always a diamond.

Bridal jewels are more blue, green, pink, pastel, and more, with some featuring enamel and fancy cuts of stones that showcase the vividness of the rocks. Emeralds, rubies, sapphires, and opals have been trending among the youthful crowd — hence, a stream of #engagementringselfies floods Instagram feeds. We're seeing more and more coloured stone engagement rings popping up in proposals.
Infusion of colour comes not only in the form of stones but also metals. Mixing and matching of different tones including rose gold with yellow and white gold has gained interest as well. Two-tone with a textured finish is still a popular choice for men's wedding rings. While we may still find the choices to be more on the conservative side, men are stepping away from the traditional look.
The way consumers think about and purchase engagement rings has changed in recent years. Younger generations take a less traditional view of marriage, but there's still a strong connection between love and rings, whether promise rings, commitment rings or engagement rings. With 'True Colour of Love' being personal to each couple, the trend is expected to continue with even more couples opting for colourful bling.

Image source: 1. Instagram @erstwhilejewelry; 2. Instagram @taylorandhart