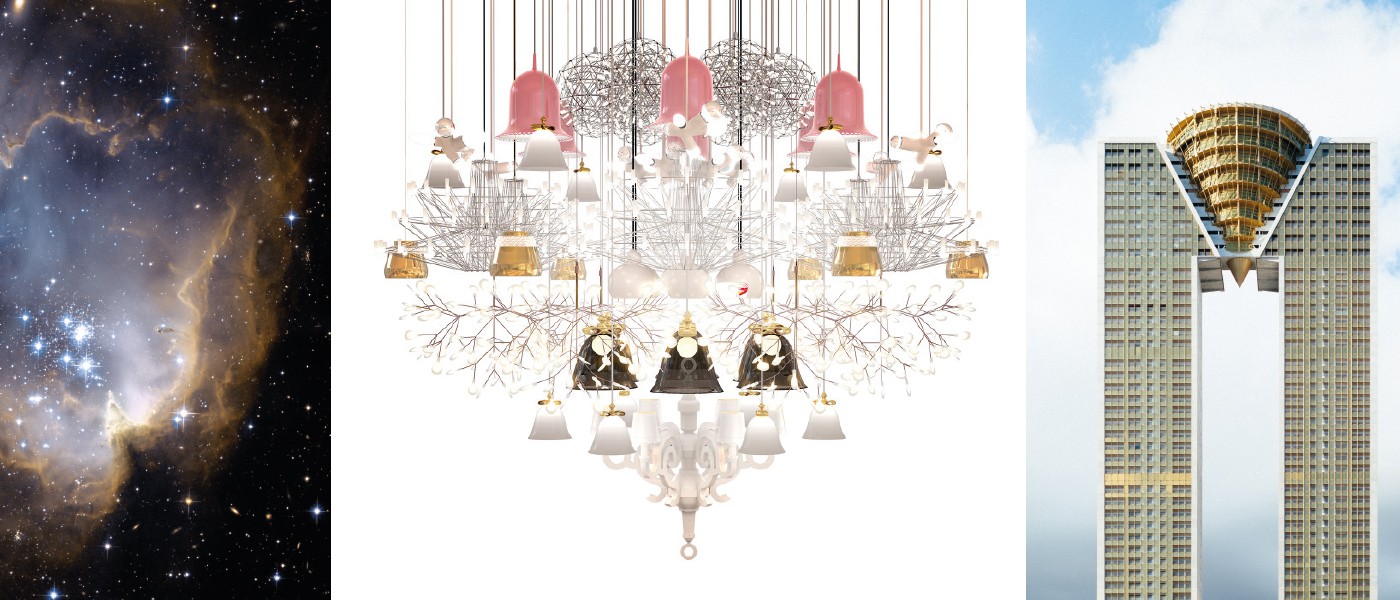 Deco delights, celestial dreams & long, shake & shimmy
#artdeco #cubism #geomety #pointed #angular #stars #moonstones #galaxy #shimmy #shake #slinky #charms
Deco delights, celestial dreams & long, shake & shimmy
#artdeco #cubism #geomety #pointed #angular #stars #moonstones #galaxy #shimmy #shake #slinky #charms
Deco Delights
Art Deco jewellery is a perennial favourite, but the forms taking shape now are more modern, edgier, and with more pronounced points than creations of long ago. Influences are coming from thorns, geometry, Cubism, and more, all of which make for futuristic and sometimes rock-star-chic appearances. These styles are executed in largely white and yellow karat gold with diamonds, enamel, black onyx, and sometimes a pop of red like ruby or rubellite tourmaline.

Harwell Godfrey, Nikos Koulis, Leyla Abdollahi
Silhouettes: oversize, bib and Y necklaces, bangles, stackable bands, drop earrings, cocktail rings, chunky cuffs, nesting rings, button earrings
Aesthetic: futuristic, edgy, cool, minimalist, Art Deco, modern, rocker chic
Materials: enamel, rose and yellow gold, diamonds, pink sapphires, amethyst, topaz, acrylic, rubies
Celestial dreams
Stars, halos, planets, crescent moons, galaxies, and the Milky Way all drive the imaginationlike nothing else. Diamonds take on the role of shining stars upon which to make wishes, shile cut-outs in gold and silver and luminous white pearls represent other familiar fixtures in the solar system. Pieces have silhouettes that run the gamut from small charms to long and slinky earrings to voluminous disc pendants and globe rings with inset gems.

Bibi van der Velden, Shy Creation, Sarah Hendler
Silhouettes: drop earrings, stackable bracelets and bands, pendant necklaces, dome and concave effects, cut-outs
Aesthetic: sweet, simple, approachable, elegant, diamond intense, whimsical
Materials: white and yellow gold, diamonds, enamel, blue sapphires, black diamonds, pearls
Long, shake & shimmy
Tiny diamonds bezel-set in gold or pierced through and danglin like briolettes are making lightweight and festive fun of jewellery. Charms and the Dancing Diamond look may be the original numbers that shake and shimmy in the light, but newer interpretations with chain or dramatic length nicely extend and complement the category. Slender drop earrings, little diamond charms, stacks of slinky tennis bracelets, and playful Y necklaces in gold are the usual suspects, though platinum can be an extra-precious player here as well.

Ron Hami, Yossi Harari, Shy Creation
Silhouettes: charms, drop earrings, pendant and Y necklaces, fringe, chain styles, negative space, linear effects
Aesthetic: elegant, dramatic, casual, upscale, fun, youthful, sexy, flirty, approachable
Materials: white, rose and yellow gold, colourless and champagne diamonds, enamel