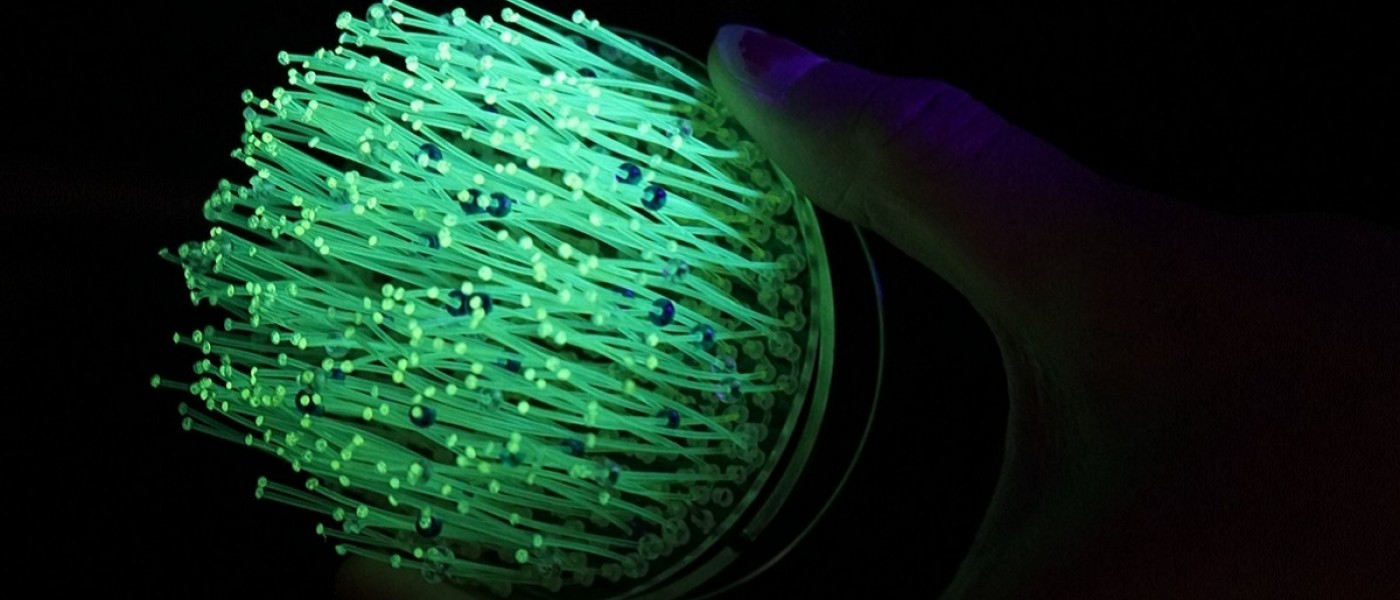 DESIGN-MORPHING
Tech Delves into the Wild
By Geeta Kaur Dhiman
DESIGN-MORPHING
Tech Delves into the Wild
By Geeta Kaur Dhiman
In the age of technological change, design is undergoing a dramatic, technology-fuelled makeover and reinventing itself. Artistic expression is now embracing technology with nature to an unprecedented degree and there's no doubt that tech design-morphing, has revolutionised the way we create and 'transformed human experience'.
Notable designers, Wanshu Li and Kei Ninomiya, have transported us to the water realm with their latest creations.
Wanshu Li's jewellery is focused on exploring tactile wearable pieces, which involve different multisensory experiences such as vision, sound, and touch. Her Jewellery series Go with the Glow stems from capturing the sensuous movements of glowing marine creatures like the jellyfish and sea anemones.

Credits: Wanshu Li
Wanshu's fascination with dance culture, laser lights and stage performances have enthused an extra dimension to her experiments with acrylic, moving beads, UV reactive nylon wire, UV light and fluorescent paints. The result, light-weighted tactile and playful pieces, with an astonishing intensity of colour. The nylon wires under UV light create marvellous fluorescent effects and provide enchanting visual gratification for the wearers and viewers.

Credits:

Wanshu Li
The moving body art pieces create subtle sounds, flowing freely with movements of the body. Much like the 80's 3D Pin Art toy that creates a perfect imprint of whatever you pushed against it, in this case, the beads ripple with your movement and shape against your body.
Fashion designer Kei Ninomiya presented NOIR KEI NINOMIYA Fall Winter 2022 collection in Tokyo. Ninomiya experiments with unconventional pattern-cutting and assembly techniques, one of his signature construction methods is putting garments together by linking various laser cut pieces.

Credits:

Noir Kei Ninomiya
In the collection named "Fluorescent", Ninomiya created otherworldly creatures by mixing the brightest hues against black, which is the identity of the brand. The designer used neon organic motifs made with phosphorescent materials for glow-in-the-dark accents and galactic silhouettes. Ninomiya's structural tulle and cocooning dresses mirrored the mysterious beauty of the ocean depths, from algae to anemones. Gothic frills were transformed to punk with neon trims of pink and green phosphorescent material that shone bright in the dark, mimicking marine phantasia.

Credits: Noir Kei Ninomiya
By combining tech material expertise into the creative process, nothing is conventional in Noir Kei Ninomiya's world.