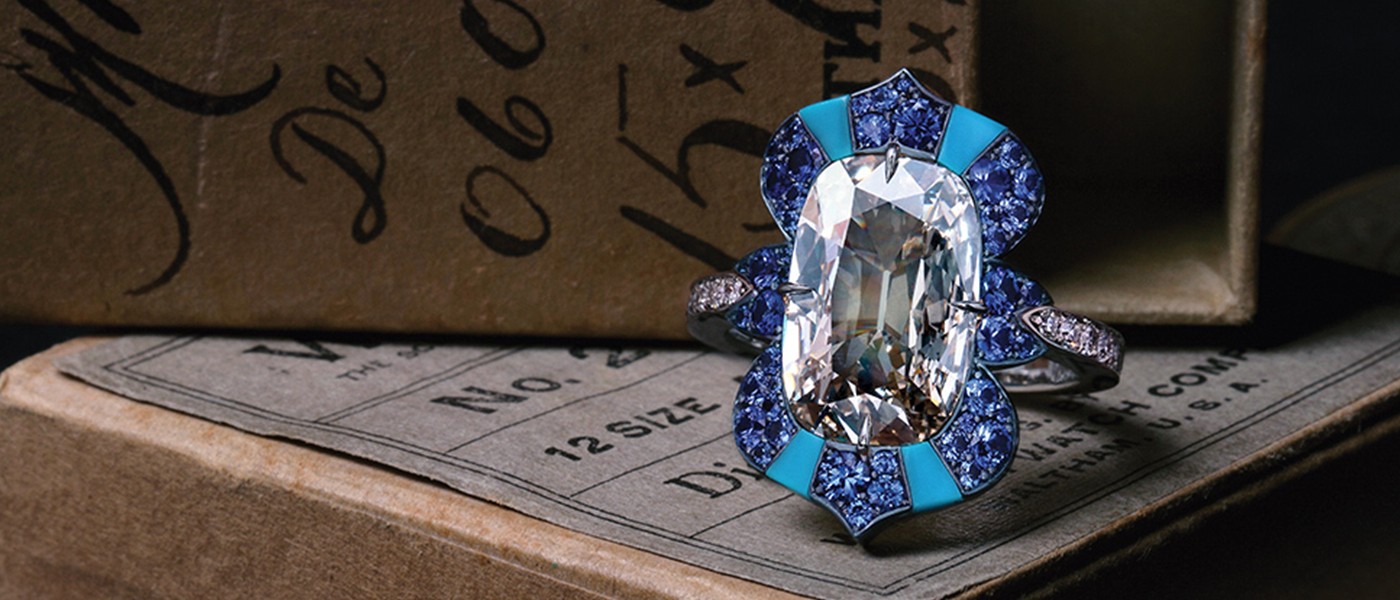 EXTREME CRAFTMANSHIP - Adding value beyond that of just gems and precious materials
#Jewelleryinnovation #uniquecraftsmanship #newmaterials #artjewels #oneofakindpiece #contemporaryartjewels #titaniumjewels # marquetry
EXTREME CRAFTMANSHIP - Adding value beyond that of just gems and precious materials
#Jewelleryinnovation #uniquecraftsmanship #newmaterials #artjewels #oneofakindpiece #contemporaryartjewels #titaniumjewels # marquetry
"Extreme craftsmanship" will be increasingly revered amidst a growing appreciation of personalised jewellery as buyers celebrate exceptional artisanal pieces. During a challenging period for the global jewellery market, the retail segments encompassing "bespoke", or custom made, craftsmanship have never had it so good.
Jewellery design is generally considered solely from an artistic standpoint, and the jewellery is viewed as an expression of a designer's artistic talent. It is being celebrated and sold more like art, and it's about time. The world of luxury jewellery lies at an intersection of art, design and craftsmanship. The art and techniques deeply embedded in history and culture, and Master Craftsmen that still treasure this meticulous craftsmanship, carefully weigh components including inspiration, design, and gemstones impact to add an intrinsic workmanship value to each piece.

Image source: 1. David Michael Jewels @artofdm; 2. David Michael Jewels @artofdm
It is obvious that honouring ancient crafts adds special value to the gems and the pieces going through this remarkable process.
Marquetry, exceptional enamelling techniques, unique custom cut gems, and the use of exceptional craft talent implemented into a jewellery piece, has been on rise.
Boucheron transformed delicate petals into exquisite, everlasting jewellery. Working with a petal artist, Boucheron stabilized the petals from the likes of hydrangeas and poppies without using pigment, therefore preserving the natural depth of colour, then applied them to lightweight titanium forms and set the recreated flowers in gold with colourful gemstones.

Image source: Boucheron
This is the sign of how craftsmanship is appreciated and underscores the need for high jewellers to stay agile and relevant in the market. Their ability to combine disparate materials, precious and humble, in an artful expression brings the highest value to each jewellery piece.
There has also been a proliferation of artistically inclined jewellers to forge sculptural pieces and innovative concepts in gold and gemstones. Technology is not irrelevant to creative design, but each feeds off the other. The World Gold Council undertakes various technology programmes, like publication of Gold Technology and technical handbooks, as well as staging technical seminars around the world that promote innovation in new craftsmanship with gold.
Cadar is a name that goes synonymous with it. Cadar unveiled a patent-pending "Fur" jewellery concept made with diamond-tipped gold coils that shimmer and shake, redefining metalsmithing techniques and what's possible with gold.
During the past year, some designers have preferred to showcase at galleries rather than at trade shows, like Neha Dani whose pieces take artistic workmanship to the next level.
The past year in particular has witnessed a clear repositioning: more elite jewellers, including Hemmerle, Taffin and Suzanne Syz, exhibited at high-profile international art fairs and galleries alongside contemporary artists, and the auction houses hosted individual designer exhibitions.

Recent trends during auctions show that jewellery created by legendary houses and artists holds value beyond that of the gems and precious materials it is made from. A considerable added value is derived from the creative designs and superb craftsmanship.
At the consumer level, modern Millennials and wealthy individuals seek innovation and quality in their lives, and this applies to the jewellery they wear or want to wear.
A focus is on keeping ''new effects'' that emerge as conscious efforts to bridge artisanal handmade work, sustainable materials or environmentally friendly and safe practices to stay ahead of the competitive curve.
Consumers are firmly on board, appreciating their jewels' artistry as much as its weight in gold and stones.

Image source: 1. Piaget; 2. David Michael artofdm.com