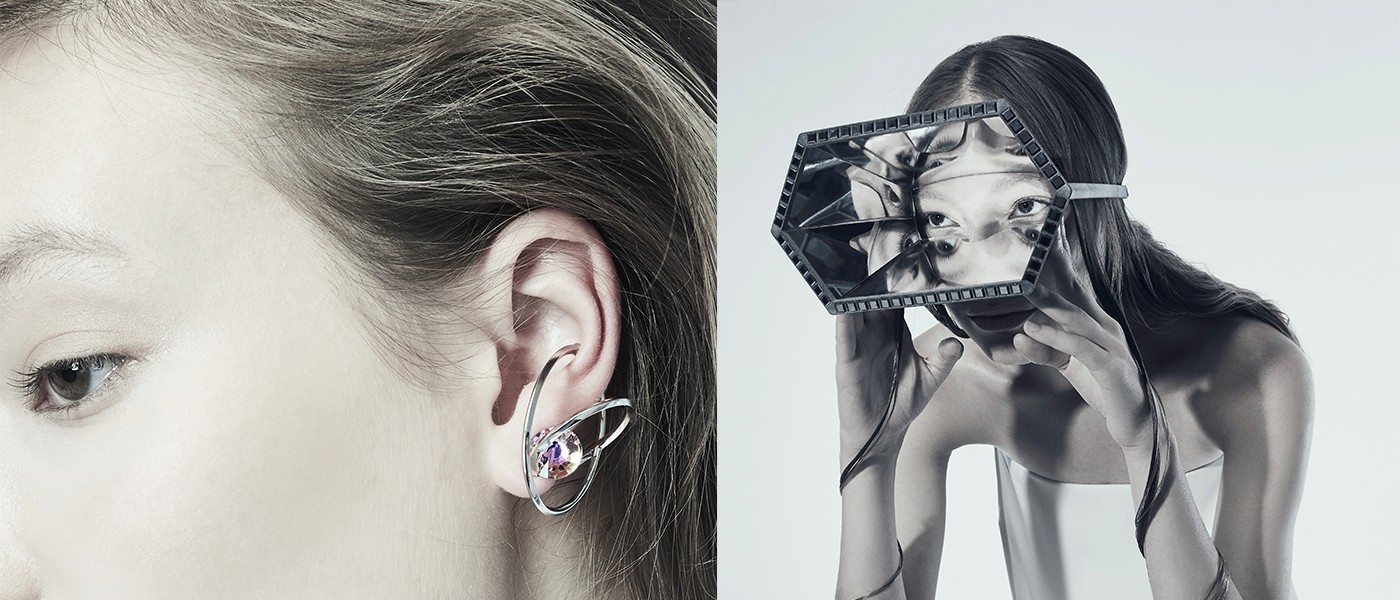 Futuristic Phenomena
Futurism, Space Age, Cyborg, Elliptical Forms, Orbits, Avant-Garde, Fictional World, Technology, MixedMedia, Abstract.
Futuristic Phenomena
Futurism, Space Age, Cyborg, Elliptical Forms, Orbits, Avant-Garde, Fictional World, Technology, MixedMedia, Abstract.
Designers are expressing their vision of the future through jewellery.
Inspired by fictional worlds, futuristic forms, orbit moon, avant-garde wearable fantasy, amoeba microorganisms, cyborg forms, facial illusions.
Elliptical forms, visions of the future world. Openwork and negative spaces paired with moveable elements create a sense of spatial depth and artful movement, as gems roll and slide playfully. Layered shapes and angled lines of gold, intersect to create depth and spatial structure. These arresting and graphic silhouettes illustrate a desire to reimagine shape and form, pushing the boundaries of geometry into the avant-garde.
Designers explore a distant universe, utilizing new technologies and materials to produce wearable art forms. They reveal a fascinating world of symmetry and geometry giving birth to tessellating creations that veer beyond the future.
ALTERED-NATIVE, by Jittrakarn is an experiment to design wearable objects that can alter its wearer's visual image through reflection and distortion, creating "the new native". Focused on the face, the most recognizable human feature, reflection and distortion techniques are explored to create facial transformation. The objective is to increase, to change direction, to deconstruct and to create illusion of the face. Multi jet fusion plastic which is a high reusable 3d printing material is used to construct the overall form. Combining with reflective materials such as Mirror acrylic, polished metal together with clear crystal.

credits: Jittrakarn
NN created by NGHI is a new vision in jewelry design inspired by uniting poets, dreamers and visionary warriors who see beauty in imperfections.
NN jewelry are often referred to asartifacts from a distant galaxy, created by fusing past, present and future aesthetics with an aspiration to redefine a modern opulence that reflects a wholly 21st century aesthetic and beyond.

credits: NN By NGHI
Inspired by abstract art, nature, social cause, and the spirit of everyday people, Tin Haus bold-minimalistic abstract designs are handcrafted using ethically-sourced and sustainable materials.
Meticulously constructed using traditional jewelry and metal fabrication techniques - from piercing, soldering and forging, to stone-setting and making chains – the intention is to create wearable art that is a vehicle of expression for one's sense of being.

credits: Tin Haus
Answer B, by Bianca Chong, follows a conceptual approach in designing, adding a sense of delicacy in her creations. Inspired by the fluidity of natural beings and the structural mechanics of architecture.
Answer B seeks balance between the two ends of organic and synthetic matters to build poetic jewelleries that flow along the body.

Credits: Answer B Jewellery