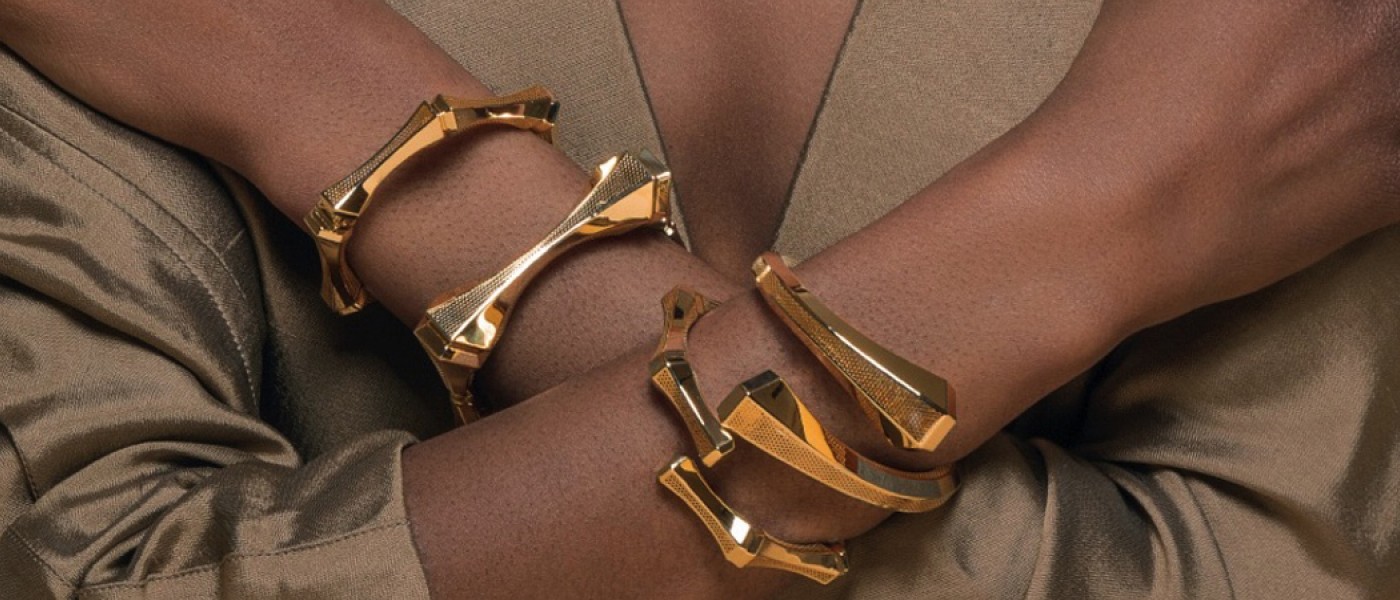 Geo-Matrix
#geometry #cubism #illusion #patterns #sculptural
#polygons #modernart #geohoops #edgysilhouettes #chokers #gemstonepuzzles #colourblocking
Geo-Matrix
#geometry #cubism #illusion #patterns #sculptural
#polygons #modernart #geohoops #edgysilhouettes #chokers #gemstonepuzzles #colourblocking
Jewellery designers are incorporating geometric shapes into elegant and angular statement pieces. From sculptural forms to symmetrical patterns, the amalgamation of jewellery and architecture continues to be a fine art form.
Pared-down silhouettes are imbued with refined elegance and sculptural quality. Inspiration is drawn from hypnotic optical effects and Abstract art like Agamograph, Origami and Cubism, rendered in folds, pleats and layered shapes.

Credits: Leda Madera, Paola Grande, FEMAR
Geometric neatness is expressed through edgy shapes, sharp angles captured in form of polygons and polyhedrons.
Designs are made up of the repeated use of seemingly complex but deceptively simple shapes, like squares, hexagons, triangles, cylinders, circles and lines that interlock and flow perfectly on the body.
Open wide patterns are balanced out by negative spaces and seemingly simple silhouettes play out into an arresting canvas, underpinned by proportion.

Credits: YEPREM, Maria Clelia Scuteri, Anapsara
Repetitive multi-dimensional shapes in mixed metal finishes are interspersed with custom-cut gemstones creating playful gemstone puzzles. Colour blocking also plays an essential role in creating contrast and clean structure. Reinterpreted with a modern verve, lines and curves peppered with diamonds and coloured gems, neon enamels or soft pastels inject a serious dose of glamour into the jewellery scene.

Credits: Falcinelli, Sicis Jewels, JJewels
Designers reveal a fascinating world of symmetry and geometry giving birth to tessellating creations that veer beyond the future.
Hoops earrings have been trending for the past few seasons– and are showing no signs of slowing down.
The popular silhouette of hoops is recreated with a geometric perspective resulting in unusual and statement geo hoops and multi-hoops earrings.

Credits: Stephen Webster, Alessa Jewelry, Palmiero