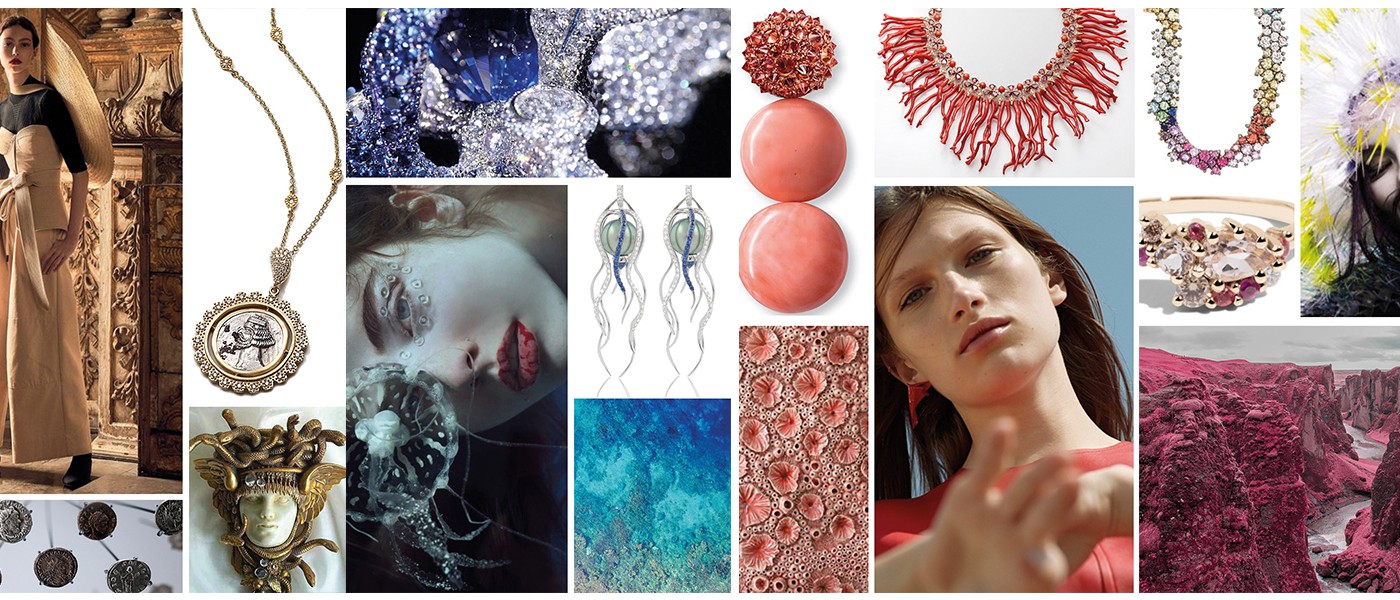 Jewellery Directions 2019 | 2020
Ancient History, Water Tales, Living Coral, Encrusted Planets
Jewellery Directions 2019 | 2020
Ancient History, Water Tales, Living Coral, Encrusted Planets
Ancient History
The basic identity of people express self realization and energy is reflected in jewels, giving consumers opportunity to pause and reflect about what they chose to preserve: royal symbols and insignias help them rediscover their own heritage and roots.

Amedeo Scognamiglio, Coomi, Dubini
Water Tales
This trend is an oceanic explosion of creative artistry, an expansive sea-bed of eye-catching. Bright blue gemstones, asymmetric pieces, inspired by the vibrant under water life transforming creatures like jelly fishes and fantasy-like sea horses into high end pieces. Also waves captured in picturesque shapes and forms are beautifully sculpted into pieces of chromatic coloured metals.
Leyla Abdollahi, Neha Dani
Living Coral
Corals have always been part of fine jewels because of its rarity, protected nature but now we can see more modern interpretation of the coral with contemporary shapes combined with naturalistic effect. While not ubiquitous yet, carved corals are showing up more and more, either as a pumpkin beads necklace, or hanging off in a pendant with shades in cabochons, or as a natural coral twigs in bold chokers.

Assael, Hemmerle
Encrusted Planets
Imagine flakes of snow gently settled onto leaves, or a bunch of dazzling light beads assembled as part of a single composition shimmering like a diamond, the similar effect is created by pave set gemstones creating an utterly enchanting effect.

Ana Khouri, Bario Neal, Suzanne Kalan