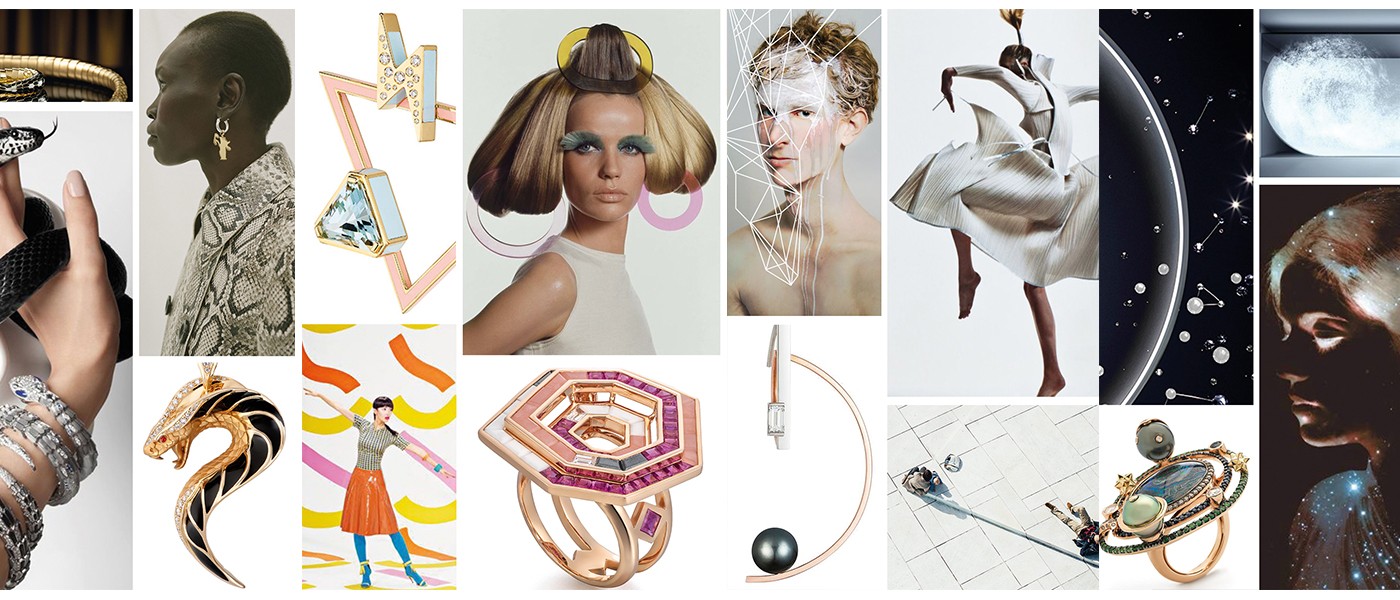 Jewellery Directions 2019 | 2020
Classy Reptile, Visionary Pop, Conceptual Geos, Lunar White
Jewellery Directions 2019 | 2020
Classy Reptile, Visionary Pop, Conceptual Geos, Lunar White
Classy Reptile
Designers have long been fascinated with serpents – one of the most ancient and widespread of mythological symbols, the inspiration turned them into a fashion symbol. This trend offers up serpents of all variations, from subtler bracelets you'd have to look twice at to notice the animal-inspired shape at all, to diamond-encrusted snake rings that are bold enough to not be missed.

House of Umrao, Magerit, Mattioli
Visionary Pop
Inspired by the 60's and the 70's Lysergic vision, colourful, geometrical shapes pave a way for jewellery that reflects the times we live in to emphasis, pieces that resonate wearer's energy. More sedated hues are paired with gemstones that complement them well, making it perfect clothing-accessories for colour blocked look.

Tomasz Donocik, NUUN, Brent Neale
Conceptual Geos
Geometry with a meaning, streamlined and filtered through a modern sensibility with combinations of shapes like circles and triangles that have spiritual, intellectual connect build this trend into one of the most versatile and long lasting theme. The pieces are minimal but elaborated inspired by architecture and conceptual art, linear yet edgy, lightweight but sometime voluminous and timeless.

Marie Mas, Yael Sonia, KOVA
Lunar White
Formations in the sky, particularly fancy shapes, produce a casual yet futuristic avant-garde essence. There is a focus on soft colours, colour white with shades of grey is at the center and gives a spiritual allure that ease the over-stimulated mind, slowing down as a counterbalance to fast-paced lifestyles.

Fernando Jorge, Bibi van der Velden, Fernando Jorge