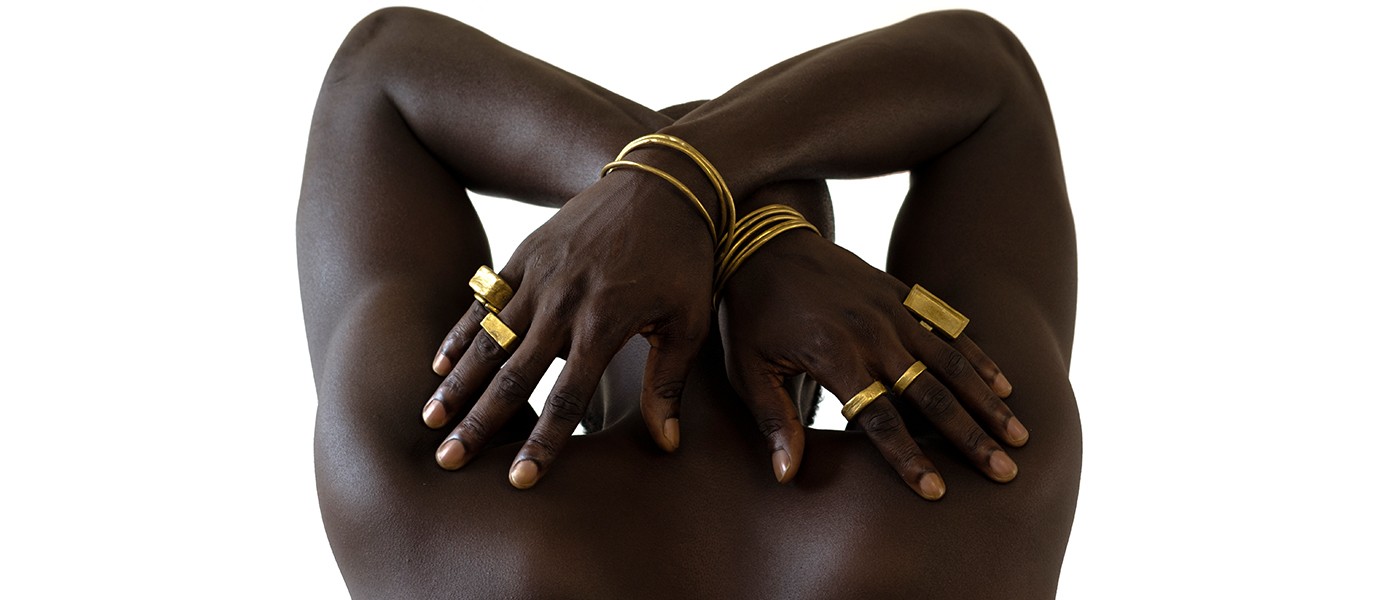 Notes From The Cradle Of Humanity: How Africa's Creatives are altering perspectives in Jewellery, Sustainability and Fashion
by Mazzi Odu
Notes From The Cradle Of Humanity: How Africa's Creatives are altering perspectives in Jewellery, Sustainability and Fashion
by Mazzi Odu
Humankind first walked under African skies, and yet comparatively little has been documented on the aesthetics, cultural and socio-economic shifts that have shaped and continue to inform creativity in the realms of jewellery, fashion and other artistic disciplines in Africa and her Diaspora. Recent increased visibility can be attributed in the main to the twin demands for diversity and environmental responsibility.
The world has become simultaneously smaller and larger. Smaller courtesy of the power of the digital playground that is our phone; where with one swipe we can traverse and engage with far-off lands, larger because an integrated global community demands inclusivity of all creative endeavours regardless of race, gender, age or sexual orientation. Furthermore, in light of the climate emergency the jewellery, fashion and wider luxury sectors have been forced to rethink how they produce, whether equitable and transparent practises are in place and if sustainability and authenticity are represented.
For African creatives many of these factors are intrinsically responded to. Sustainable practises are borne from operational challenges, authenticity stems from work that is posited in lived realities and the cost of raw materials both figuratively and literally has resulted in many creatives being at the forefront of innovation.

credits: Emefa Cole, Lola Fenhirst, Melanie Eddy
Savvy consumers demand compelling storytelling that situates what they are wearing with deeper truths. Consequently, many brands have harked back to history: Sierra Leonean Satta Yei Matturi of Matturi Jewellery's collection Whispers of Meroe takes as her starting point the 25th Dynasty of the Kushite Kingdom of Egypt but interprets the motifs of Ancient Egypt but fuses them with references from West Africa, such as the masquerade inspired Nomoli earrings.
The Triangular Trade which saw slaves shipped from Africa to the Americas and Caribbean and goods shipped back to Europe is poignantly evoked in Bermudan Melanie Eddy's signature faceting seen in all her collections. For Lola Fenhirst the brand's story is anchored in founder Lola Oladunjoye's Nigerian royal ancestry, Parisian location and love of reinterpreting classics. Meanwhile, the complex world of Gen Z Kenyans is distilled in Theresia Kyalo's work which like the country's youth refuses to be easily categorised and the pieces themselves sit deftly between art and jewellery. The result is jewellery imbued with profundity and beauty.

credits: Matturi Jewellery_Nomoli Totem Spiky, Theresia Kyalo, Jariet Oloye
Sustainable practises can often be found in traditional craft and it is here where Africa's contribution has gained considerable international attention. Working by hand instills a contemplative and spiritual element to pieces and this is powerfully reflected in the work of Ghanaian Emefa Cole whose pieces are meditations on memory and who incorporates old revered techniques such as the lost wax casting method, learned under the pupilage of the Asantehene of Ashanti's personal goldsmith.
The lost-wax method is also used in brass pieces that Lagos Space Programme created in collaboration with Philip Omodamwen a Nigerian seventh generation bronze caster and Dunja Herzog. Jariet Oloyé, a Nigerian jewellery artist locates her contemporary pieces in a weaving technique of her own creation that is nevertheless inspired by traditional Aso'oke cloth and basketry weaving methods found amongst the Yoruba. Cole, Oloyé and Thompson all see themselves not only as knowledge guardians for future generations but also custodians of ancient cosmologies hitherto ignored that now fascinate collectors globally.

credits: Mina Stones, Rosenkrantz Africa
Within the African fashion industry repurposing waste, particularly under the remit of textile development has seen three Nigerian brands; Nkwo, Lagos Space Programme and Tokyo James hailed for their forays. Nkwo developed the award winning Dakala cloth and it forms one part of the brand's thesis seeking to define and propagate sustainable luxury.
Lagos Space Programme is home to Post-Adire a fabric born out of numerous experiments with traditional dyeing methods and founder Adeju Thompson's desire to incorporate their overlapping identities into their work. For James, his early adoption of vegan leather and up-cycling dead-stock fabric has made him the go-to for pieces that fuse Savile Row sensibilities, specific local normative concerns and 21st century environmental sentiments.
In Uganda, Gloria Wavamunno an interdisciplinary artist has made collections using meat by-products such as animal hides, worked with traditional fabrics such as barkcloth and kikoy and championed dead-stock fabric usage. In the hands of these creators luxury's parameters have been expanded for the better.

credits: Tokyo James
Sourcing be it metals or gemstones is no longer the domain of the mining industry. Rather than lobbying for change, African jewellery houses are creating solutions. From their base in Kenya Rosenkrantz Africa co-founded Zimbaqua, the only female run aquamarine mine in the world. Elsewhere, jewellery industry advocacy is seen most notably in the work of Nigerian Lotanna Egwuatu founder of Mina Stones and Zambia's Patricia Mweene of Inonge Zita. Indeed, responding to the challenges of sourcing equitably and empowering the jewellery ecosystem has become part of many a business model, and is especially pertinent given Africa is home to much of the world's mineral wealth. Similarly, celebrating and using gemstones from the continent rather than equivalents from other parts of the world is a recurring trend seen in the aforementioned brands. For Vanleles Diamonds founded by Guinean Vania Leles using Mozambican rubelites, Namibian diamonds, and Madagascan pink sapphires is part of a larger mandate of expanding notions regarding fine jewellery from Africa.

Credits: Nkwo
Perhaps the most significant shift has been that Africa is being seen via the lens of its people. For centuries a source of inspiration and wonder, what all of these artists and practitioners -and the many more not mentioned in this brief synopsis - have in common is a commitment to owning their narrative and sharing it with an open, engaged world. Beyond current discourses Africa's contributions should not be seen as cool curios or worse, of periodic interest. Instead the continent should be viewed as an invaluable and inevitable part of global conversations shaping creativity in the future for the better.