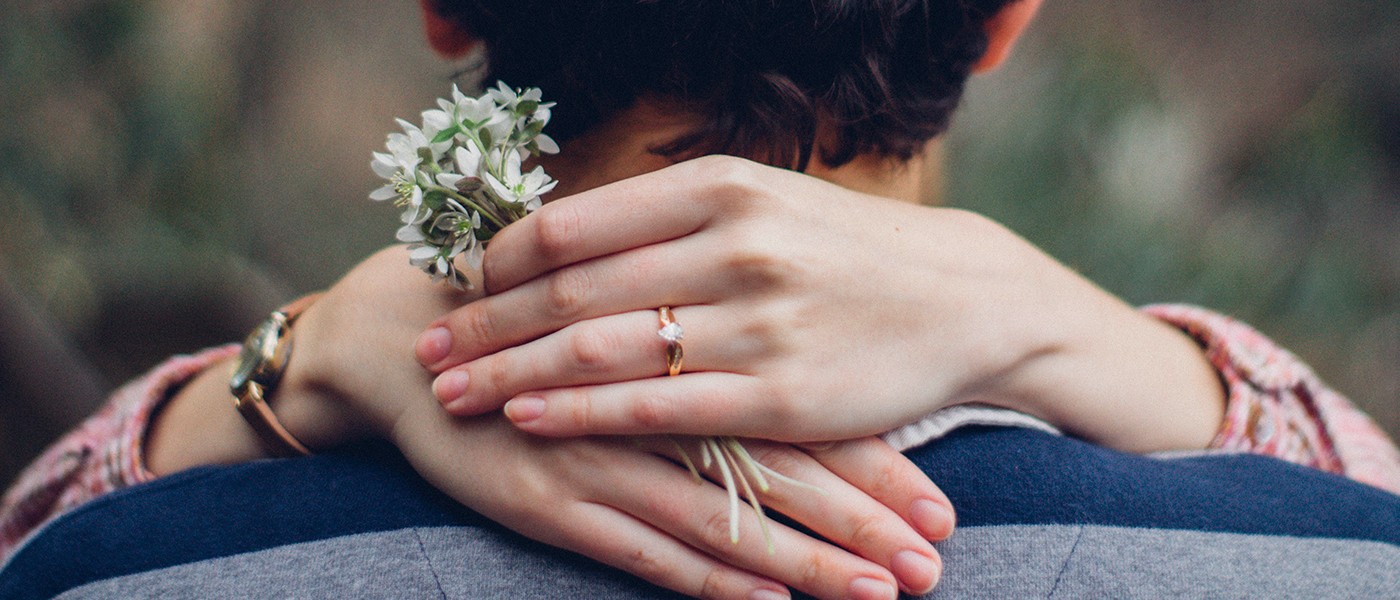 Stunning Bridal Ring Styles That You Need To Know
By Smitha Sadanandan
Stunning Bridal Ring Styles That You Need To Know
By Smitha Sadanandan

Credits: unsplash.com
Bridal ring styles are ever evolving although solitaires remain eternal favourites. Reimagined styles, vintage inspired designs and utterly fashionable designs make bridal ring shopping an adventure no less. Here's our guide to some classic styles and some hot new favourites.
You could keep things elegant and simple with the classic style – opt for solitaire engagement rings in traditional bright white diamond, or go the extra mile and have the band micro-pavéd in tiny diamonds. Half pave bands look equally glamorous, if you wish to go easy on the sparkle. Halo settings with diamonds, precious-coloured gems and fancy-coloured diamonds are ever popular classic styles that gives the central stone an illusion of being much bigger than it really is. A single or double halo of pavé-set diamonds effectively adds extra sparkle to the ring, while fancy-cut diamonds and precious gems reinforce the 'on trend' factor. Spilt shanks with textured details or diamonds, bezel set central diamonds, channel set diamonds on shanks, three stone setting, double diamond styles and central hero stones flanked by coloured gems or diamonds as side stones are other popular bridal ring styles and settings. Inscriptions and secret messages on the inside of band are a great way to personalise your bridal rings.

credits: Nora kogan, KatKim, Thelma West, Katherine Jetter
Toi et Moi and East-West gem settings are other styles that have caught on quickly. Diamonds and gems horizontally set on the band makes for a contemporary style in the east-west setting – one of the hottest styles, the east-west style engagement rings often feature gorgeous diamonds; specially-cut diamonds, accented with smaller diamonds or coloured is a modern, unisex style.
According to Nicole Rose Kopelman, designer of New York-based jewellery brand Nicole Rose, Toi et Moi engagement ring is quickly becoming a new classic for the modern bride. Diamonds, mismatched coloured gems – and even pearls – in combination with a diamond set in wrap around or open ring styles are good bridal ring options. Nikos Koulis offers swoon worthy bridal rings in art deco and coloured precious stones to set your heart aflutter.

Credits: Nicole Rose, pexels.com, Aaryah
Alternative Bridal Rings
Earlier this year, De Beers launched Ten/Ten design initiative and partnered with 10 independent designers – Almasika, Aurora Lopez Mejia, Bea Bongiasca, Harwell Godfrey, Lola Fenhirst, Marla Aaron, Michelle Fantaci, Platt Boutique, Pamela Love and WWake –
who created engagement rings using diamonds ethically and sustainably sourced from Botswana. Traceability, sustainability and provenance have increasingly emerged as key parameters for bridal ring buyers alongside personalisation. And the rings designed as part of Ten/Ten (and sold on the US platform Blue Nile), catered to this very particular demand.
One of the Ten/Ten designers, Bea Bongiasca sought to fashion engagement rings that struck a fine balance between simplicity and creativity. Blue and green are among the new enamel colour options that Bea has added to her latest series of alternative bridal rings. The Milanese designer has recently started using other fancy cuts like hearts, ovals and trillions, which she believes are "really fun."

credits:ARTEMER, Bea Bongiasca, De Beers
Founders Tanya and Mikaeilyn of Artëmer love to use mixed cut stones in their alternative bridal rings made in gold.
Based in Tel Aviv, the designers regularly source baguettes, half-moon and triangle cut diamonds for their popular styles. Salt and pepper diamonds figure prominently in many of their offerings, while cluster insets, floral, geometric and art deco motifs evolve into perfect engagement rings. Engagement rings in alternative designs also require matching or well-paired wedding bands. British designer Annoushka Ducas offers a beautiful solution with her new bridal line, Love & Commitment. Made in 100 percent recycled 18k gold and diamonds, the engagement rings vary from simple solitaires and delicate three stone designs, to bolder five stone rings and single and triple floral styles. Stackable styles and cluster designs enable the wearer to mix and match. Annoushka has also designed a range of polished and hammered wedding and eternity bands in 18k white and yellow gold, some set with delicate diamonds and these are available as options for men too.

Credits: Annoushka
Artisanal Designs
London-based jeweller Flora Bhattachary works with small gemstone dealers who try to source their stones from named
Mines because she is keen to try to ensure that the stones she uses can be "traced in their origins as far as possible." Her bridal rings feature hand textured details. Inspired by her Scottish heritage, Ellis Mhairi Cameron leans on materials that are robust. Using recycled gold, she creates bridal rings set with one-of-a-kind diamonds and stones with a textural aesthetic. She knows her sources and works with verified independent suppliers to 100% recycled gold and traceable stones. "I'm noticing that my clients are asking me about this a lot more," adds Ellis. In her new bridal designs, she has added a lot more baguettes and unusual colours.
Within Shakti Ellenwood's bridal collection, you can expect to see reocurring elements such as matt gold, rose-cut diamonds, hammered bands with bead set gems. Shakti's signature hand-stamped lines around the stones and patterns stamped directly into the gold are also distinctive features of her artisanal rings that fuse an ancient feel with a contemporary aesthetic. "My ethical wedding and engagement rings are rich in romance and myth, with pieces inspired by ancient civilisations from the Egyptians to the Mughal Empire," says the designer who works with 18k Fairtrade gold alongside CanadaMark diamonds, Greenland rubies and sapphires from Australia and Sri Lanka.
Roxanne Rajcoomar Hadden's clients are mostly quite conscious shoppers. "So, it is equally important to them to know that they are proposing to spend their lifetime with someone with a ring that has been made positively and proudly by every hand that has touched it along the way," says Roxanne, whose bridal rings have been bespoke to date. She uses more Single Mine Origin gold at the moment. New to 2021 are Roxanne's Union Rings; this is also the first bridal collection she has made. The independent British jeweller draws on geometric shapes for her creations with the octagon evolving into her signature style.

Credits: Ellis Mhairi Cameron, Flora Bhattachary, Roxanne Rajcoomar Hadden, Shakti Ellenwood
Unisex Styles
Parisian designer Marie Cabirou of Marie Mas has been busy creating bespoke bridal rings for both men and women. Encouraged by the response, she recently launched her first unisex collection entitled 'U and I.' "Of late, I'd begun to notice that the notions of typical styles for women and men' have been gradually disappearing. So, I wanted to create easy-to-wear minimalist and meaningful pieces," she explains. The new bridal line consists of two styles of rings – one has a U shape (called the U ring) and the other has an I shape (called the I ring) and the I ring slips inside to create a compact design. "Each partner can wear both rings together as a symbol of their union, or each partner can wear one style, knowing they are part of a whole," adds Marie.
Founders of fine jewellery brand Harvey Owen, Hallam Harvey and Owen Bather love to use rose-cut diamonds. "Rose cuts yield a softer sparkle and flash as they catch the light as they have less facets than a traditional brilliant cut diamond," adds Hallam. "We like to use rose cuts as we can set them a lot lower to the finger, and we have found customers love the fact they are less likely to catch these pieces in everyday life." Along with rose-cuts the duo has noticed a higher interest in champagne and cinnamon-coloured diamonds." They like to showcase the centre stone and hence set it upon a fine knife edge band or a fine diamond band that elevates the stone tends. This, they say, show the stone in all its glory – whether it is a champagne diamond, rose cut or something entirely different. Harvey Owen's new commitment rings, Hoxton, features either a round or oval rose cut diamond which sits upon a fine diamond set band. "They are available in platinum, 18k white, yellow or rose gold and each is made-to-order as part of our sustainable process," Hallam adds. Their just launched Staples collection includes gender fluid wedding bands and eternity bands.

Credits: Hannah Martin, Marie Mas, Harvey Owen
Lab diamonds
Lab created diamonds and coloured stones are definitely a less expensive option those keen on cost-effective bridal rings. Laura Chavez is the founder of Lark & Berry, which exclusively features cultured diamonds and stones. According to Lark & Berry, their lab diamonds are comprised of the same chemical crystal compound as their mined counterparts. "They're all made in a controlled environment, which mimics the natural process of diamond formation in nature." The brand offers engagement ring and wedding band pairing from their Bow collection, set in platinum, and at highly competitive price points.
Icelandic jeweller Aurum is noted for handcrafting its jewellery exclusively from recycled gold and silver, lab grown diamonds and ethically sourced precious gems.
Founded by Rachel Bowes, Carbon Neutral Fine Jewelry, a new heirloom inspired, hand-made jewellery brand based out of West Seattle, primarily works with lab grown diamonds and gemstones. "They cost about a third of the price of mined stones for fine jewellery, so our pieces are sold at a more accessible price point. We strongly believe lab-grown is the future of jewellery and we're thrilled to see it already picking up steam in the industry."

Credits: Aurum, Carbon Neutral Fine Jewelry, Keystar Gems, Lark & Berry