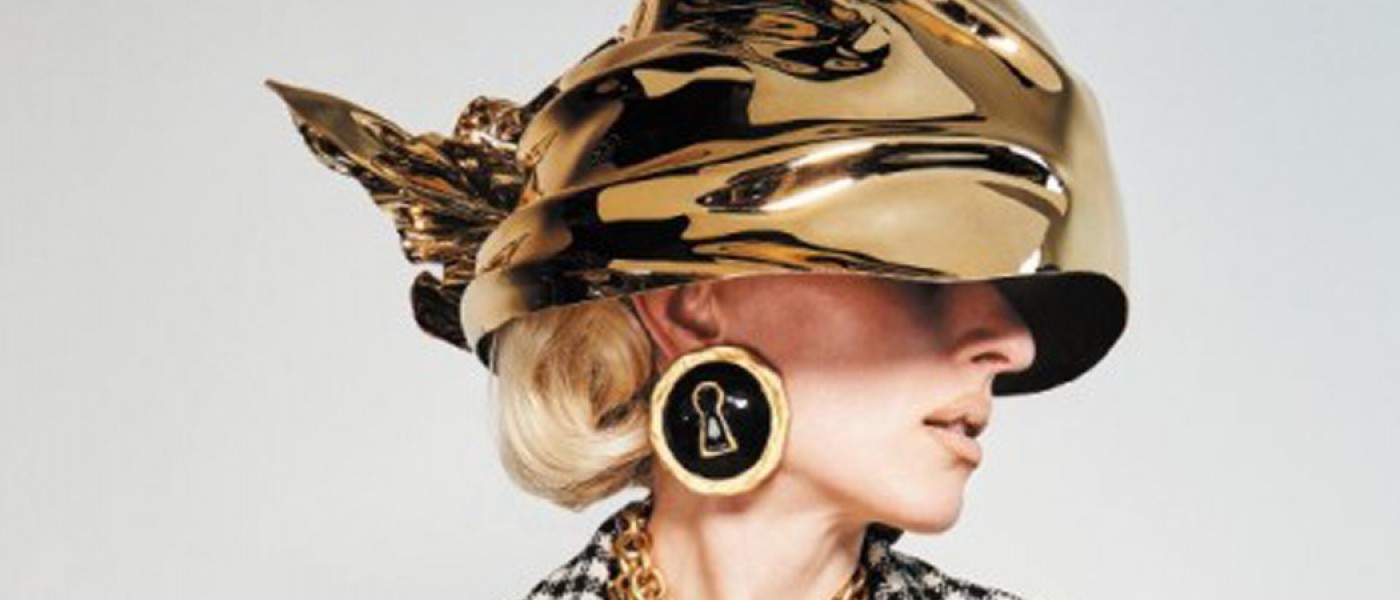 The bold and the beautiful
The bold and the beautiful
Bold jewels take on a new dimension, as jewellers strike out in style with colourful, fun and powerful statement pieces. When it comes to jewellery, it was all or nothing at the runways of Paris Couture 2022. Designs showcased exuberance, grand gesture and bold expressions from Schiaparelli's quirky surreal touches to conspicuous designs bursting with colour. As the world celebrates being free to socialise and party again, jewellers bring a celebratory joy to fine jewellery with energising hues and attention grabbing forms.
The party mood calls for chunky gold chains, gargantuan stones, loud logos, earrings and chokers in enormous proportions. At the same time, opting for decorative relief and forms that extend over the body. Designers like Balmain pushes the simple chain link to new heights, inflating them into opulent bejeweled garments, further blurring the lines between jewellery and fashion.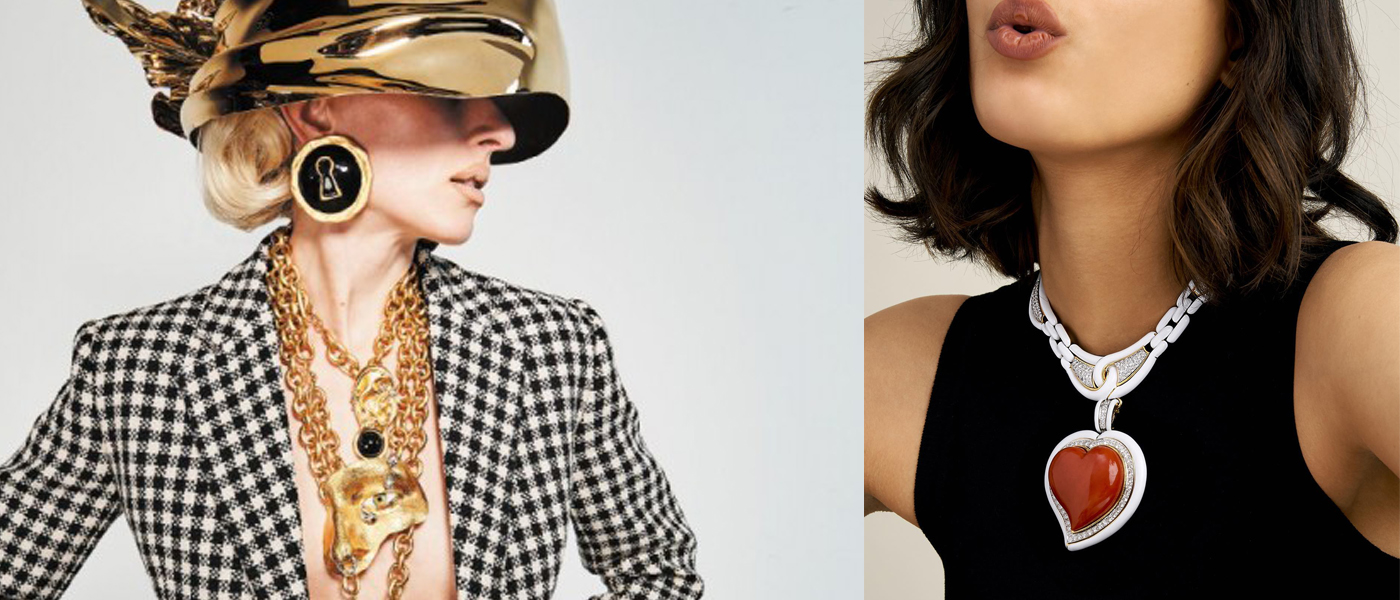 Credits: Maison Schiaparelli, David Webb
Bracelets, bangles and shiny gold cuffs are layered and are worn high on the arm, drawing attention to the biceps while body chains adorn bare midriffs. Large bauble and lucite bubblegum rings in 3D silhouettes are cladded on every finger for high impact.
Swarovski explores an imaginary world where jewels get bigger, bolder and brighter. Oversized cushion cut crystals are layered on the neck, bringing maximalism in all its technicolour glory.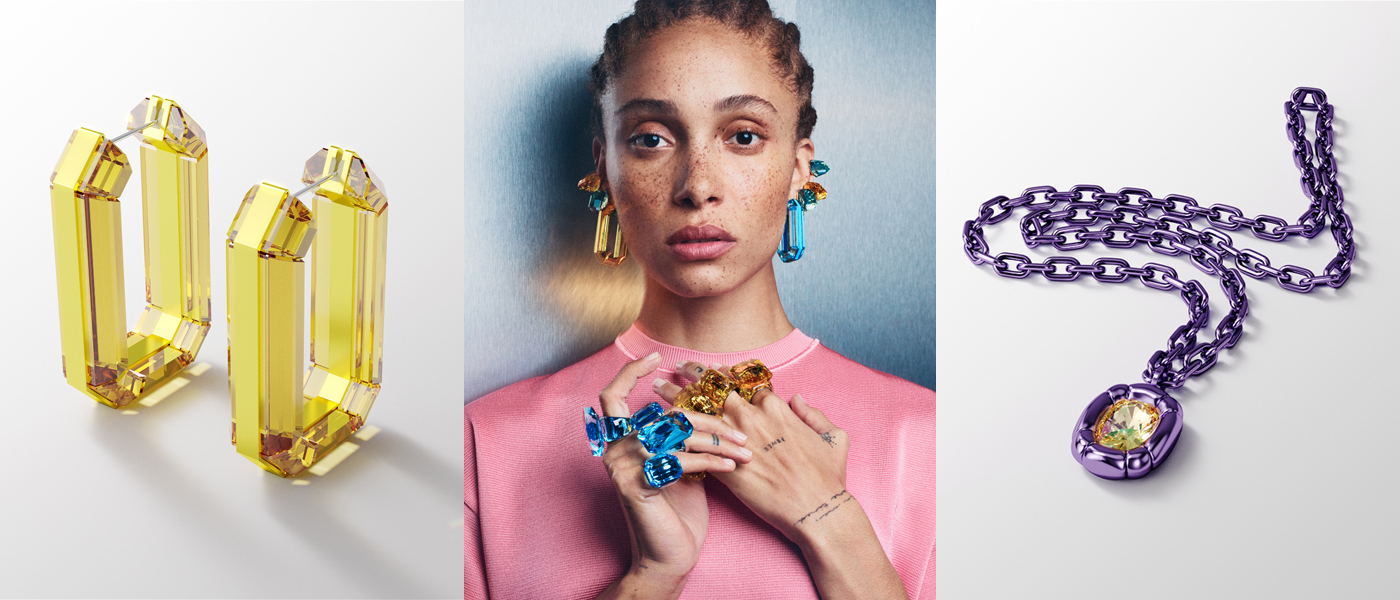 Credits: Swarovski
A Digital Dream
Bold colour solutions with Y2K inspired, metaverse related and psychedelic aesthetics are leading the way. Kaleidoscopic jewels have evolved towards a 'meta-palette' in digital neon shades. Titanium and aluminum in gold and silver have spilled over to the mainstream, seen everywhere from high jewellery brands like Fabio Salini to fashion jewellery label Swarovski.
The digital era spurs a new wave of surrealism rooted in the subversive and the weird. Jewellers like Hugo Kreit, Acchitto and Solange tap into the Millennial and Generation Z colour palette through bright, electric tones, neon enamel and holographic textures that evoke a cyberpunk aesthetic. Beautiful flowers, hot lips, surrealist styles and popular emoji's are cast in neon pinks, blues, greens and metallic hues.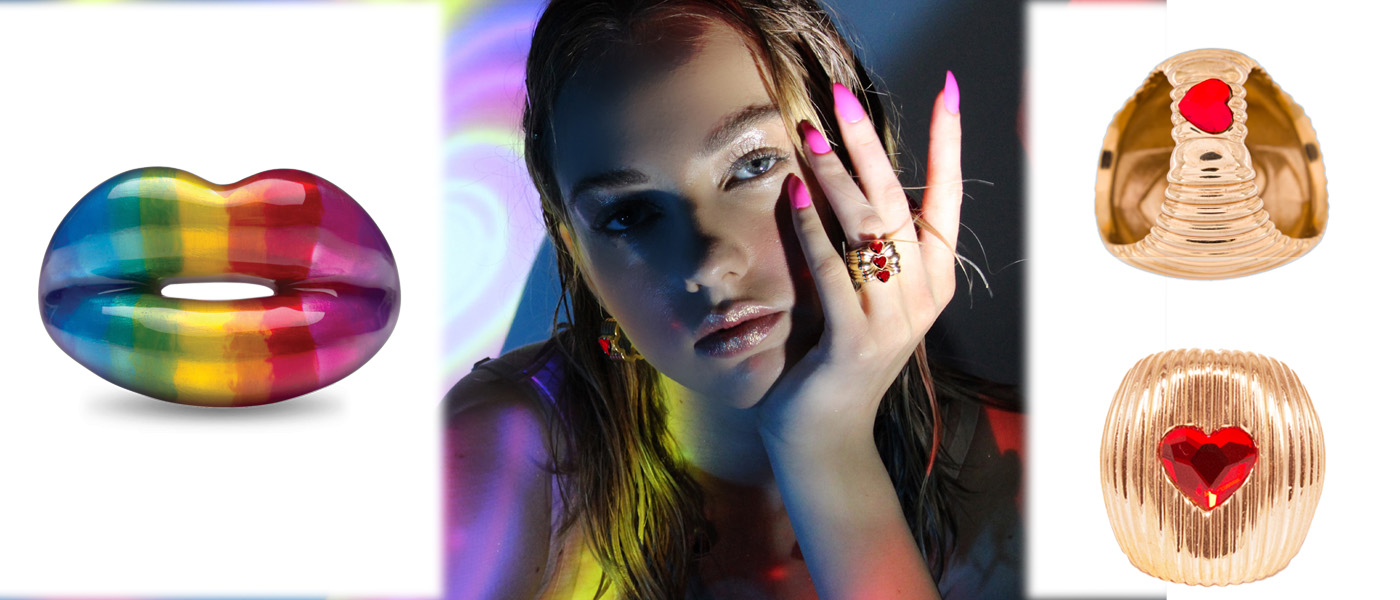 Credits: Hotlips by Solange, Acchitto
Influenced by techno music and synthesized electropop, Hugo Kreit transports us into a simulated reality, exploring the relationship between the natural and artificial worlds we live in, juxtaposing the fake with the precious and the tangible with the intangible. Playing upon the distortion of organic shapes, voluminous flowers and coral formations are drenched in otherworldly chrome colours.
The coming season presents an unbridled exploration of playful rippling colour. There is an upbeat energy in the air, and it's time to embrace shimmering finishes in full metallic effect.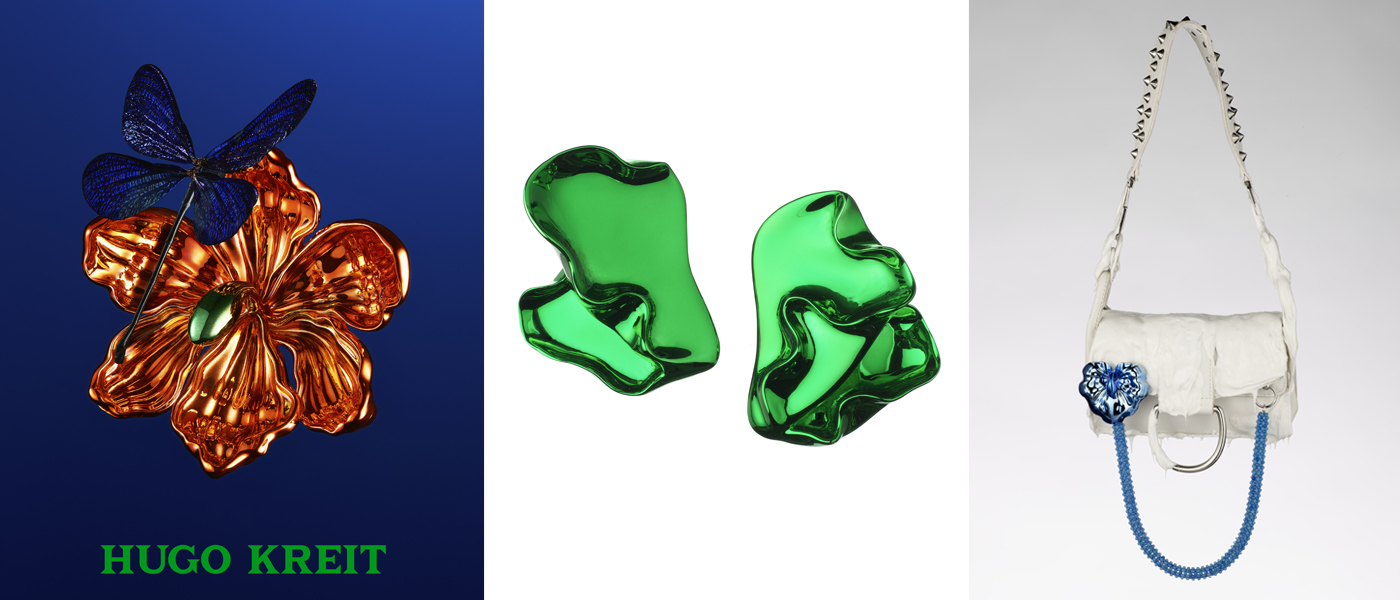 Credits: Hugo Kreit