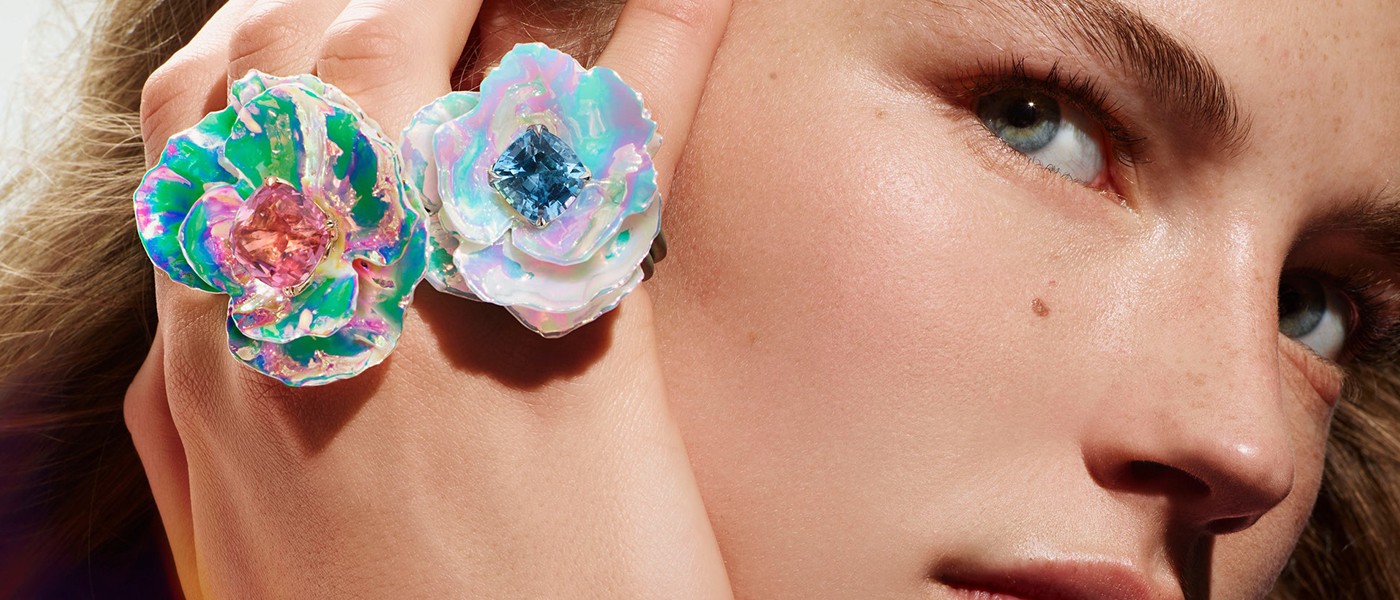 The Green Footprint
#PreciousPlastic #FlowerPower #CircularDesign #EnvironmentallyFocused #InnovativeMaterials #NewMedia #SustainableChic#ColouredMetal#EcoFriendly #ConsciousLuxury#WasteFree#UpcycledJewellery #RecycledAluminium
The Green Footprint
#PreciousPlastic #FlowerPower #CircularDesign #EnvironmentallyFocused #InnovativeMaterials #NewMedia #SustainableChic#ColouredMetal#EcoFriendly #ConsciousLuxury#WasteFree#UpcycledJewellery #RecycledAluminium
The fight to save the planet is under way. Jewellery is increasingly driven by undercurrents of sustainability and ethics as designers become aware of its impact on the environment. As the world pivots towards sustainability, a host of designers transition to a low-carbon, circular economy, breathing new life to waste materials to embrace repurposing. They reclaim the detritus of everyday life, forging precious flowers from recycled paper, plastic and metals to organic, bio-based and renewable sources. Eco-friendly materials merge with enchanting floral designs that conspire to sweep you off your feet.

credits: Arina Klimova, Sarran, @FVCKRENDER
Recycled titanium and aluminium are heralded as eco-friendly alternatives to gold. Imperfect silhouettes are celebrated in titanium jewels, giving way to light and elaborate designs. Leaves and foliage rendered in satin-like surfaces and laden with coloured stones, mirror their real-life counterparts while blurring the fantasy and reality of the natural world. Jewellers dream up precious flowers in recycled drinking cans to create intensely hued, voluminous blooms that are set with lab-grown gems. Other designs seamlessly merge natural and man-made materials together to create both unique and luxurious pieces.
credits: Lotus Arts De Vivre, Liza Borzaya, Margherita Burgener
Sheets of plastic are combined with precious stones to create surprisingly elegant and inherently playful jewels, providing a contemporary reflection on the theme of waste. Flowers' visual, olfactory, and tactile qualities, bugs and critters, wondrous nature, and ocean creatures all transform into sources of inspiration. Delicate fish, and playful monkeys in their natural habitat are realized in carved gems, while gem encrusted snakes and spiders creep along the body through cocktail bracelets and statement rings.

credits: Tsai an ho Art Jewelry, Nicole Schuster, Sabina Dragusanu
Gold tendrils and gem-paved branches unfurl into ear cuffs and sweeping necklaces that signal rejuvenation and hope. As we move towards a renewed sense of ecology and more conscious living, this trend beautifully blends creative designs and unbounded luxury with recycled and alternative materials.
By Isabella Yan
cover credits: Boucheron