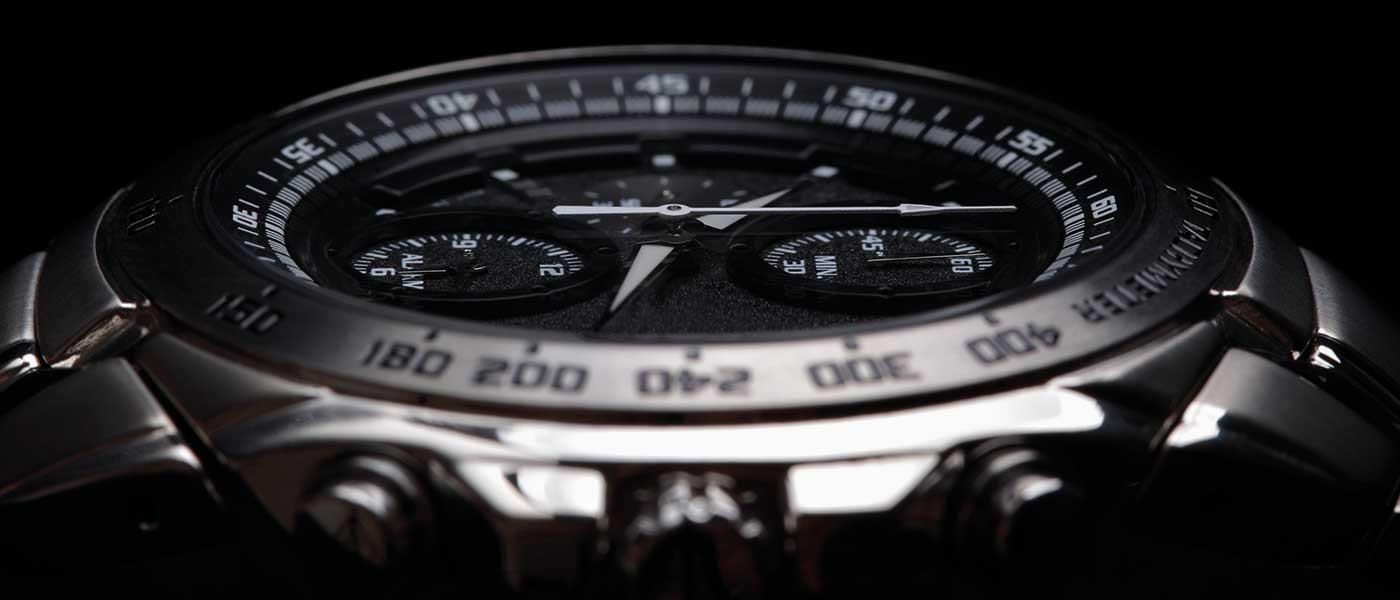 The new generation of smartwatches
Blending style and high tech functionality
The new generation of smartwatches
Blending style and high tech functionality
TThe smartwatch market is growing and connected watches were one of the biggest trends during the Baselworld trade show in March 2017. The latest smartwatch models merge the authentic feel of an analog watch with high tech features. Below is a selection of the new generation of smartwatches, ranging from fashion watches to high performance pieces.
Tag Heuer
TAG Heuer has worked closely with Intel and Google to create a luxury watch which combines connectivity and smart technology with Swiss watchmaking expertise. The TAG Heuer Connected is a genuine Swiss luxury watch with features such as GPS, an NFC sensor for payments, a high definition AMOLED screen, and a wide selection of unlimited customisable TAG Heuer dials. It's created in high-quality materials such as titanium, ceramic, and rose gold.

TAG Heuer Connected
The watch is fitted with a small water-resistant microphone enabling the wearer to communicate with it using Google Assistant, as well as a sapphire crystal touchscreen, to be used alongside the command crown at 3 o'clock. It can be easily synchronised with a mobile phone operating on both Android and iOS.
De Grisogono
Samsung Gear S2 by de Grisogono
de Grisogono and Samsung have combined their vision and unique aesthetics to co-create a limited edition smartwatch that merges fashion and function; the Samsung Gear S2 by de Grisogono. It's inspired by traditional jewellery and watchmaking and transformed into smart fashion through rose gold, more than 100 black and white diamonds, and a bracelet studded with de Grisogono's signature galuchat. The diamond-set gold bezel turns freely around the dial, allowing its wearer to access the Gear S2's library of applications and features.
Kronaby
Swedish watch brand Kronaby merges sleek Scandinavian design with technology. The watches include a number of general features such as Auto Time Zone, Silent Alarm, and Filtered Notifications. The Auto Time Zone feature automatically displays the local time wherever you are. Silent Alarm wakes the wearer up with a soundless vibration instead of a ringing alarm clock. The feature Filtered Notifications allows the wearer to stay connected without distracting too much by letting him or her choose a group of people to be notified by.

Nord" by Kronaby
Kronaby's watches have two dials. One is the classic watch dial telling the time and the second includes features such as a Timer, Daily Hundred (activity tracker), and Additional Time Zone. The features are available by pushing the watch's crown. The watches also have trigger features: Music Control, Camera Remote, Find Phone, Remember This Spot, and Walk Me Home.
Guess Connect
Guess was one of the first fashion brands to embrace the trend of wearable technology with the launch of the Guess Connect in 2015. The brand's new relationship with Google and Qualcomm Technologies pairs it with pioneers in technology. The new timepieces are powered by the Qualcomm® SnapdragonTM Wear 2100 processor, which is especially designed to support new and enhanced wearable experiences for its users. Over a hundred combinations of display faces, colours, and sub dials are available. Customisation continues with a collection of interchangeable straps to complement dial choices. The smartwatches will work with both iOS and Android smartphones and will be available in the fall of 2017

Guess Connect
Frederique Constant
The Swiss brand Frederique Constant presented new versions of their Horological Smartwatch during Baselworld. The brand's first Horological Smartwatch came out in 2015 after three years of extensive research and development. Frederique Constant was the first in the Swiss watch industry to introduce an analog watch offering connected functionalities.

Horological Smartwatch Notify Collection for Ladies by Frederique Constant
The new ladies' versions of the Horological Smartwatch carry the latest "Notify" features, namely call and e-mail notifications. Calls are automatically linked to the smartwatch after connecting and pairing the watch to a phone. Whenever the user receives a call, the watch vibrates briefly, and the hour and minute hands join at 2 o'clock for 2 seconds notifying the user that a call is coming through. The same happens for the e-mail notifications, except the hour and minute hands will point to 10 o'clock.
The new models showcase intricate detailed dials featuring mother of pearl on the outer dial and applied Roman numeral indexes.